NO: 21 JUL 1993 Starplex, Dallas TX
(from the Retro 'Live' CD, posted by
dgthco
)
Setlist
Ruined In A Day, Regret, Dream Attack, Round And Round, World, As It Is When It Was, Everyone Everywhere, True Faith, Bizarre Love Triangle, Temptation, The Perfect Kiss, Fine Time
From
808state.com
:
From Mike DeWitt:
"It was 116 degrees in the shade and after two warm-up sets (808 State & Stereo MC's) you could tell they were simply spent. The crowd sang every word to every song with them, it was like church. Most already knew the words to "Republic" even though it had only just been released. But things got ugly when the lights came up after only one encore, "Fine Time." Some kids started breaking things and roughing people up. I saw one guy in tears because they didn't do the song he came to see"

Tracey Spivey's notes:
"Was at this show (embarrassingly my one and only NO gig). They didn't play Blue Monday, as indicated on the set list on this site. Barney was complaining about a yellow light being shined in his eyes during or after Fine Time, so they just left the stage after the song was over and never got to Blue Monday.
Also remember Hooky losing one or both of his drum sticks during his octopad part in TPK. Couldn't get them out of the little bag hanging from the stand and when he finally did, he dropped 'em.
World on the live disc of Retro came from this gig. But, I've never seen a tape of the gig. Though I'm sure it exists."
Shared on JD Central's Twitter: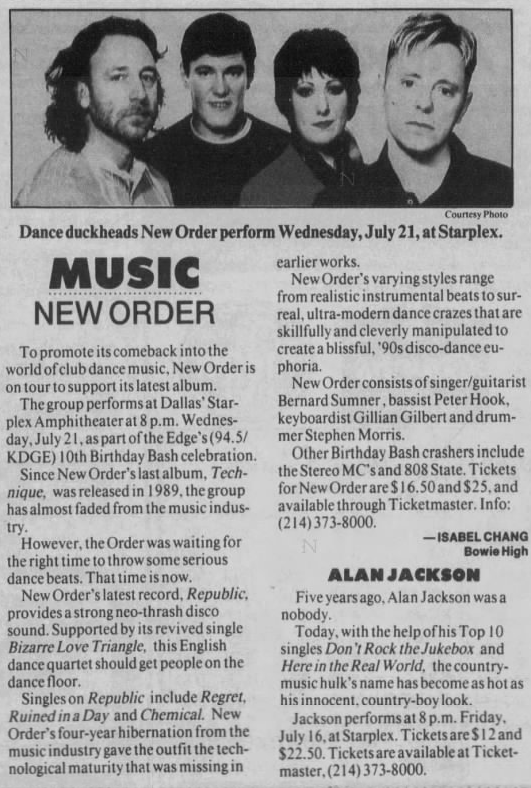 Versions
SBD #1 - "World", as appearing on the 'Live' CD off Retro. No other tracks from this show have been released.